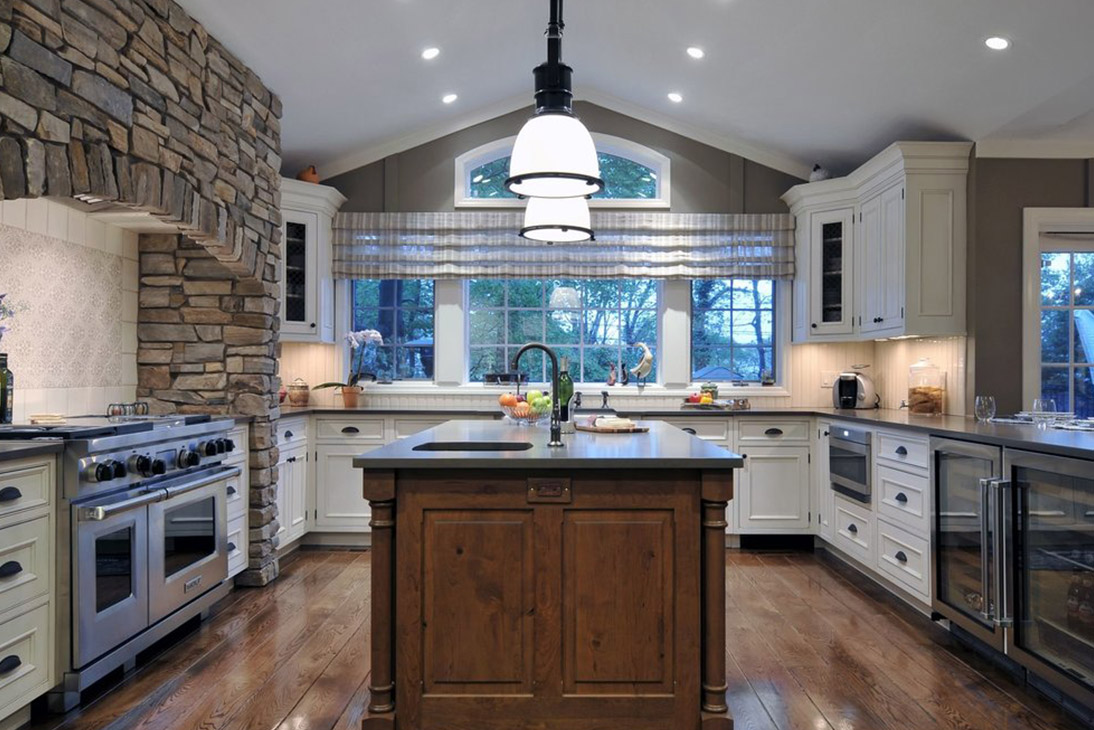 The importance of tile and stone is often overlooked in a custom kitchen remodel. Let's fact it, there's a lot you have to think about when you undertake a custom kitchen remodel, from the design process where you get your vision on paper to the finish process, where you finally get to enjoy your kitchen. In-between there are dozens, if not hundreds, of steps, and one of those steps is picking out your tile and stone work. In reality, this is one of the first things people notice when they step inside of a kitchen. They notice the wood floors, the granite countertops, and the tile backsplash before they notice your brand new top-of-the-line kitchen appliances. Hence, this step is extremely important to get right.
As the new Titanium Dealer of Artistic Tile at our sister showroom in Manhasset, Showcase Kitchens makes it a point to prioritize your tile and stone work at the beginning of this process. In fact, tile or stone should be one of the things that determines the rest of your kitchen. Below, we'll take a look at just some of your stone options, but to get the real value and to see many more of our selections, visit our Manhasset or Massapequa showrooms today!
TILE FOR YOUR CUSTOM KITCHEN DESIGN
There are dozens of tile you can choose from for your custom kitchen design. Below are some of our favorites.
Ceramic kitchen tile. One of the most popular kitchen tiles is ceramic kitchen tiles. Made from a combination of water, caly, and other minerals that are fired at high temperatures to harden, ceramic kitchen tiles come in glazed or unglazed forms. Glazed tiles adds an extra protective coating to them to help make them scratch-resistant and stain-resistant. It also makes them very hard, but extremely durable. Almost any pattern and color combination is available with ceramic kitchen tiles.

Porcelain kitchen tile. Porcelain tile is perhaps one of the most beautiful types of tile you can have installed in your custom kitchen. But don't let the name porcelain implant in your mind that porcelain tile is delicate and can break, like your porcelain dishes. The porcelain name for tiles stems from its beauty, not its durability. Porcelain is made from sand and other materials. Like ceramic kitchen tiles, porcelain kitchen tiles are fired, but at a greater temperature, yielding an even harder substance. Showcase Kitchens is a Titanium dealer of Artistic Tile in the Long Island area. Titanium finishes on your flooring helps create an insanely hard finish that protects your tile incredibly well.

Glass kitchen tile. Like the name implies, glass kitchen tiles are made up of tiny pieces of glass. The glass can vary widely in terms of size, and can be whole tile pieces or broken up to form mosaic patterns. Due to the fact that if you drop something heavy on glass kitchen tiles they can break, glass kitchen tiles are mainly used for the back splash in your kitchen. Glass tiles go well with other types of tiles, so Showcase Kitchens in Long Island usually recommends that you choose a different type of tile for your custom kitchen floor.

Stone kitchen tile. Perhaps one of the most versatile and a very aesthetically-pleasing choice, stone kitchen tiles are made from stone, which you can pick from. Popular stones for stone kitchen tile include granite, slate, marble, onyx, travertine, sandstone, and any other type of stone your desire. Since no two stones are the same and they are a completely natural substance, you can have a complete custom kitchen floor or backsplash by choosing stone tile.
STONE FOR YOUR CUSTOM KITCHEN DESIGN
We mentioned above the types of stone for your stone kitchen tile. Below, we'll expound a bit more on your stone flooring choices.
Granite. Granite is popular because it's beautiful. It's also long-lasting, but let's face it, we pick items that are pleasing to the eye when we use them. Granite floors look amazing when you have granite countertops, and when you do a full custom kitchen design, Showcase Kitchens in Long Island recommends that you pick out both at the same time in case you want to use the exact same source material.

Limestone. A very abundant material in our earth's crust, limestone has a very rustic feel, which makes it perfect for traditional kitchens. It is very durable and one of the most comfortable natural materials to walk on. Limestone can come in any color scheme, allowing you to choose what kind of tone you want to create with your custom kitchen remodel.

Marble. Marble essentially is just hardened limestone. It's hard to damage marble since it's one of the hardest flooring types. There's no doubt that if you choose marble flooring for your new custom kitchen designed by Showcase Kitchen in Long Island, you can guarantee an instant elegance as your flooring will seem to glow.

Slate. Slate is a type of metamorphic rock that is made from shale, sedimentary rock, clay, and volcanic ash. Slate and shale were interchangeable terms up until recently. Slate, like the other stones we have been discussing, is beautiful due to the many different minerals its composed of, including, but not limited to quartz, pyrite, feldspar, muscovite, and hematite. Popular as a building material, slate can be found both in the exterior of your home (such as the roof), as well as the interior. As a testament to its durability, slate tombstones are still standing after hundreds of years. Slate looks best in dark colors, so slate kitchen flooring can complement a white kitchen nicely. Slate, like all the different stone floors, has a unique appearance and a natural beauty that lends an earthy, artist air. Showcase Kitchens loves the look of slate in your custom kitchen in Long Island.

Travertine. Another type of limestone, travertine is formed when minerals dissolved in groundwater and then make their way up above ground. Earth tones are the most popular form of travertine flooring. Used since Roman times, travertine has a timeless appeal that many custom kitchen owners crave. It can be finished in various ways to either give it texture or make it smooth. Travertine is a popular flooring option, as well as a backsplash or for use in the bathroom.

Onyx. If you're looking to stand out from the crowd and garner immediate attention in your kitchen, onyx countertops are the solution. Onyx is rarer than marble and is made mostly of calcite, which is found in caves that are mostly in the Middle East, North Africa, and South America. Onyx is formed by the dripping water from stalactites and stalagmites. When this water evaporates, it leaves behind deposits of calcium carbonate, which causes the stone's distinguishing colorful bands, swirls, and spots. Light can penetrate onyx, giving it a beautiful glow. Onyx is definitely for custom kitchen countertops for those who want to stand out from the crowd. However, onyx is very fragile and needs a backing such as a fiberglass mesh in order to be used at all for a countertop. It scratches easily, chips, and does show wear and tear. Water can damage it as well. Showcase Kitchens in Long Island recommends that onyx be used as an accent piece, rather than a full-blown countertop.

European quartz. Quartz is one of the hardest minerals on earth (only the diamond, sapphire, and topaz are harder) and it is extremely abundant in the earth. European quartz can be compared to marble and granite in terms of strength and durability; however, many consider European quartz to be superior because of its non-porous nature. This means no spills can seep into the stone and stain it over time, eliminating the need for it to be sealed and resealed. European quartz is beautiful, and like all of the tile and stone besides onyx, is scratch-resistant, resistant to heat, and looks amazing in custom kitchens and bathrooms designed by Showcase Kitchens in Long Island.
Most tile and stone flooring in general are easy to care for. They are resistant to mold and bacteria and are easy to clean with some simple soap and water. Foot traffic, dogs, kids, and cats are no problem for both tile and stone floors, and the accidental spill is easy to clean up. All stone and tile flooring are allergen-resistant since they prevent the build up of dust, mold, or pet dander that can irritate allergies. All stone and tile floors are durable, and if properly maintained, beautiful. You really can't go wrong with tile or stone for your custom kitchen remodel by Showcase Kitchens in Long Island.
WHY SHOWCASE KITCHENS FOR YOUR CUSTOM KITCHEN REMODEL
Showcase Kitchens stresses the importance of tile and stonework in your custom kitchen design. We carry tile and stone for kitchens and baths for countertops, backsplashes and flooring. Our tile specialist can show you the latest unique European quartzite, marble, glass, ceramic, porcelain, travertine, onyx, and limestone tile in polished, honed, brushed, raked, and leather finishes.
Showcase Kitchens in Long Island offers the best custom kitchen design. We work extensively with builders, contractors, architects, interior designers, and art consultants to bring you a kitchen you will cherish for years. After all, a kitchen is where memories are made, and Showcase Kitchens in Long Island takes pride in helping you create memories in a comfortable setting. For over eight decades, our family-owned and operated custom kitchen remodeling business has been bringing the best appliances, custom kitchen islands and cabinets, and complete interior design of your kitchen. Our experience and longevity speak to our high quality work and craftsmanship. To speak to one of our amazing custom kitchen designers and set up a complementary consultation, give us a call today!